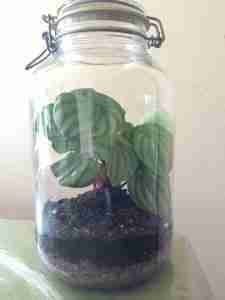 I ran across small terrariums when I was trying to keep specimen plants inside.  I had so many plants and so little room to keep them.  Keeping terrariums is fun, especially when you keep larger enclosures, but often times smaller containers are overlooked.
With an overabundance of cryptocorynes and some extra jars in the quart size that I was no longer using to tissue culture with at the moment surely they could be used for keeping plants.  I decided to use a few to keep some specimen plants (plants I wanted to keep healthy to reproduce later) so I could move them around while I rearranged the lab room.
As it turns out these smaller terrariums worked out great.  I even began using them for other non emersed grown aquarium plants (there are other plants beside aquarium plants I came to realize lol).  Watering regimes are easier, storing them is easier, and it keeps youngsters from pouring milk into pots.  Usually theres only one plant or one species of plants in my small glass terrariums using pickle jars and gallon mason jar type glass.
There are relatively few materials you will need for your glass jar terrariums.  Some plants may need only potting mix and water, especially some emersed grown aquarium plants.  Generally you need to take a few more steps for terrestrial plants to keep them in good order.  Small pebbles or rocks in the first layer will help maintain a water level that will allow the soil to keep the proper moisture without being too wet.  This can be adjusted to fit particular plants growing preferences.
Among the rock layer horticultural charcoal can be added.  Simply dish out a circular area but not out to the edge of the glass where you can see it.  Gently place the charcoal in a layer about half an inch deep and tidy up and areas along the edges that are visible.  Horticultural charcoal helps absorb impurities and better aids in drainage and controlling moisture.  It can also help with smells from decaying plant matter and mold and fungus.  It isn't absolutely necessary but it helps build a better terrarium.
On top of the gravel layer it is a good idea to place a screen or weed barrier mat to keep the potting soil from working its way down into the gravel layer.  Some like paper and some use plastic screen, and some may like a piece of weed control screen on top of the rocks.  This helps keep the substrate media from working its way into the rocks and charcoal and becoming all one layer.  By separating those layers you can keep good aeration in the bottom layer and keep the soil from becoming a rotting anaerobic mess.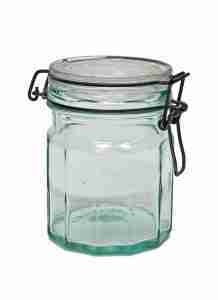 Plants that are going into the jars should have their potting mix or soil combed out with a fork or similar object.  You don't have to get all of the soil out but it makes it easer to plant and lets the roots have a new period of growth.  Another method is to remove the plant from the pot and from the bottom up cutting the root ball in half and apart so that you can spread the roots in a layer from side to side.  Using a sheet of paper as a guide or as a funnel fill in the potting mix to cover the roots.  A long pair of forceps or a bamboo skewer may help if you cant get your hand in the container.
Some of the more wet loving or humidity loving plants can have long fiber sphagnum moss laid on top.   Even the packaged moss from the home improvement stores may begin to grow (not the ground up type but the long strand type). Dried sphagnum may come back to life, not from the dried moss itself, but from its spores. If it does it can take as long as three or four months to see growth.  Rocks, gravel, and even sand can be placed on top of the soil if you don't prefer to add sphagnum moss.  You don't have to put anything if you don't have it or don't care to have it on the soil.
Water the plant until you see it in the base layer of the rocks.  Try to stay under the layer of potting soil just slightly so as not to make the potting mix too wet.  If the soil gets too wet you can leave the jars top open to let it dry out some.
You really don't need to seal the jar but it will often help with maintaining the jar so you have little work to do.  There was a sealed jar a man in Britain had kept since the late 1960s or early 1970s that he hasn't opened in a very long time.  If its too dry add some water.  When it gets to the right level of moisture you can cap it off by closing the lid snugly.  Keep an eye out for it and don't forget about it.
Different plants need varying levels of light, but whatever you do don't leave your jar sealed in direct sunlight.  The jar will quickly become an oven and bake your plants.  The glass becomes a solar heat collector and inside temperatures will quickly raise.  It is best to place your plants in filtered or indirect sunlight instead of in direct heat of sunlight.  Other plants need much less light than others so a little experimenting may be in order to produce the best light levels.
Fertilizing, trimming, and general maintenance should be carried out periodically.  Any of the indoor plant fertilizers should work fine for your glass jar (or plastic) terrarium.  However you must remember that each plant requires different levels of fertilization.  Carnivorous plants will die if fertilized as they get their nutrients from insects they trap.  Other plants grow rapidly and need to be fertilized regularly for optimal growth.
Glass jar terrariums are a great way to add plants to your collection, and keep them for later use as well.  We all know that we run out of space in our vivariums and terrariums.  There's no need to toss them out or get rid of them when you can keep them in a sort of suspended animation (not really but you get the idea) and easily stored and moved around.  The next time you run across a plant you don't have immediate space for consider keeping it in a glass jar until you rearrange your tank.  Its great for trading plants as well with locals.